Trisha Hershberger was the host of What's News alongside Anthony Carboni. She has appeared on The Attack as a guest and a guest host. She's also appeared on Let's Do It On The Table and various special streams.
List of Attack appearances
Edit
Ep

#

Air Date
Title
44
16 Jun 2015
E3 Day 1
46
18 Jun 2015
E3 Day 3
50
29 Jun 2015
The Attack
66
5 Aug 2015
Tarzan is Handsome
77
2 Sep 2105
Untitled
List of LDIOTT appearances
Edit
Ep

#

Air Date
Game Played
6
28 Jul 2016
Muchkin Adventure Time Edition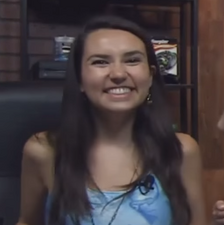 Ad blocker interference detected!
Wikia is a free-to-use site that makes money from advertising. We have a modified experience for viewers using ad blockers

Wikia is not accessible if you've made further modifications. Remove the custom ad blocker rule(s) and the page will load as expected.