The Pile is a segment on The Attack where videos from around the internet are shown and discussed. It is always the first segment of the show (after the intro and "carnival barking"). Most of the show's bits are based on these videos and happen during the segment. Because of this, the Pile segment tends to make up a large portion of the show.
As of Episode 273, a new subsegment called "Winner of the Web" features a Pile video and serves as a setup to a bit to end the Pile.
The Pile is loosely analogous to the "Around The Net" segment on Attack of the Show.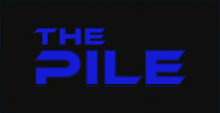 Ad blocker interference detected!
Wikia is a free-to-use site that makes money from advertising. We have a modified experience for viewers using ad blockers

Wikia is not accessible if you've made further modifications. Remove the custom ad blocker rule(s) and the page will load as expected.