The Indoguration was a 3-hour charity livestream benefiting the Lange Foundation. It aired alongside Donald Trump's inauguration as US President on January 20, 2017 and was repeated on a loop for the rest of the day. The stream featured footage of dogs and cats and was a parody of the presidential inauguration.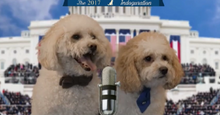 The event was hosted by Woof Blitzer and Anderson Pooper (Kevin and Alex). Most of the stream was footage of puppies playing on the set. There were several preproduced bits, including performances by 3 Dogs Down, Corgi Keith, and the Rocattes. Barottweiler Obama, Joe Bidog, Paw Ryan, and several other puns made appearances. Then it was revealed that Catamir Putin was pulling all the strings.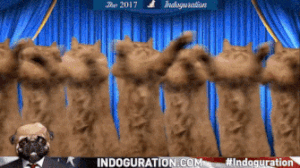 Ad blocker interference detected!
Wikia is a free-to-use site that makes money from advertising. We have a modified experience for viewers using ad blockers

Wikia is not accessible if you've made further modifications. Remove the custom ad blocker rule(s) and the page will load as expected.