Milynn Sarley has appeared on The Attack multiple times as a guest host. She is a cosplayer and member of Team Unicorn, and streams regularly on Twitch.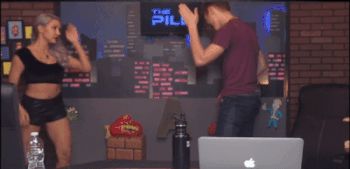 She can totally kick your ass, too.
List of Attack appearances
Edit
Ep

#

Title
4
Attack Morning Show
7
Attack Morning Show
29
The Attack
31
The Attack
34
The Attack
37
The Attack
39
The Attack
67
Leafblowers in the Hood
69
Mexican Pancakes
70
Office Clips & Horse Kicks
81
Los' Quinceanera
83
Selfie Spoons
85
Cheese Heads
87
Jetpack Cheeseburger Rolaids
94
Ol' Robo Legs
96
Backflips and Horse Trips
98
The Joy of Tainting
100
One Hundredth Episode
103
Alex's Day of Birth
Ad blocker interference detected!
Wikia is a free-to-use site that makes money from advertising. We have a modified experience for viewers using ad blockers

Wikia is not accessible if you've made further modifications. Remove the custom ad blocker rule(s) and the page will load as expected.