Evanne Friedmann was the cohost of The Attack from November 2015 to June 2016 and appeared in 55 episodes. She first appeared in 99:Coffee Days, Whiskey Nights. Her final appearance was in 162: Chicken See, Chicken Do. She is an actress and regular Twitch streamer.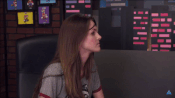 Her departure was first announced to be a temporary two-week break to shoot a movie. When she did not return to the show after that time, it became clear that she wasn't coming back. She confirmed this on her own Twitch stream. Then Alex made a statement on the old Attack subreddit which included the following:
It is true that Evanne will not the permanent co-host of the show moving forward. This decision was absolutely not made in bad spirits or because of any kind of argument, but rather because Evanne has no interest in becoming the permanent co-host of The Attack. Earlier this month, we presented her with the option, and she said she did not want the job, and would like to focus on her acting career.