"I'm a computer full of coffee!"
Erin Steeby
was the cohost of
The Attack
from late 2016 through December 2017. She is an actress and
Twitch streamer
. She cohosted 81 episodes of The Attack, first appearing on episode
208: Dark Souls Butt Controller Challenge
. Her final episode was
292: The Attack Holiday Special 2017
. In addition, she streamed Let's Plays on the Attack channel a few days a week (usually after
Front Page
), where she commonly played co-op games with the channel's
subscribers and Patreon patrons
. She also made regular appearances on several
other Attack shows
, and at the end of her tenure she appeared on camera on nearly every show the channel was producing.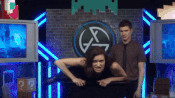 She's more commonly called "Steebs" (or "Steebz") than "Erin," both on the channel and within the community.
Erin's big heart, boundless enthusiasm, and apparent lack of any sort of filter brought a frenetic energy to the show. She was particularly known for her non-sequitur jokes and anecdotes that often left both the audience and the staff giggling and asking themselves "WHAT??"
She was commonly referred to as a witch, after Jon Carnage called her one when she did a magic trick in episode 213.
Discovery
Edit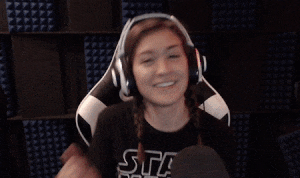 Erin met KP at a Nintendo event that they were both working. Although when she first saw him she thought he was Adam Sessler, she eventually got it straight and approached him for an autograph. They struck up a conversation, and soon she was invited to the studio to audition for cohost.
Departure
Edit
On the 8 December 2017 episode of
Front Page
, Erin announced that she would be moving on from The Attack at the end of the month to pursue an acting career and other opportunities. On her final Let's Play she advised everyone to follow her on
Instagram
and
Twitter
to keep up with her newest adventures. She also mentioned that she would like to start her own
Twitch stream
someday soon, and she has since started that stream so be sure and check her out there!