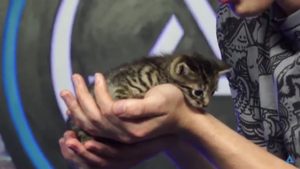 The Dumpster Kittens were three kittens that were found outside the studio in a dumpster alongside their dead mother. Liz brought them inside and fed them, and on that night's Let's Do It On The Table (episode 3), all donations went toward funding caring for them and finding them homes. They were given the temporary names Bonesaw, Whiplash, and Savage.
They made several appearances on The Attack while they were still around, mostly in bits where they were "killed." Liz fostered Bonesaw (renamed Kylo Ren) until a home was found for it, and Savage (renamed Flapjack) went home to live with Coral.
While still under Liz's care, Kylo Ren starred in the short film "Catseye."
Ad blocker interference detected!
Wikia is a free-to-use site that makes money from advertising. We have a modified experience for viewers using ad blockers

Wikia is not accessible if you've made further modifications. Remove the custom ad blocker rule(s) and the page will load as expected.