Attack on Twitchcon 2016 was a series of 6 live shows presented from the main stage at Twitchcon, hosted by Alex Corea and Anna Lore. The convention ran from Friday, September 30 to Sunday, October 2.
The first show was at 3pm Friday. It featured a Pile segment with mashed-up Pokemon. Twitchcon bingo was handed out. Alex dressed as AttackScot the Attack Mascot and berated Priscilla for not watching the show until Mike G forcibly removed him.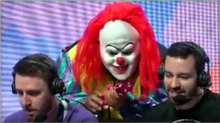 Alex did an interview with Jon Carnage and GoldGlove, and then GassyMexican. GoldGlove and GassyMexican competed in Rocket League with handicaps: Oven mitts, then kaleidoscope glasses, then Mike G dressed as a horrifying clown and distracting them.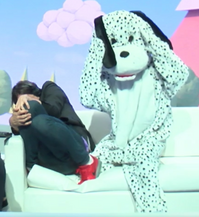 The second show was at the end of the day on Friday. It featured Jon Carnage as a guest. Anna dressed as AttackScot and frightened Jon. Anna then shared a horrifying story from when she worked as a Hello Kitty mascot. Winners of Twitchcon bingo were shown off.
The third show was at 10am on Saturday. Jon Carnage showed up and he and Alex waxed their nose hairs. Alex did a field package from the floor, looking for the "essence of Twitchcon." Alex then interviewed FuturemanGaming and Jon Carnage and played "Snapshot Crapshoot" with them using a Gameboy Camera. Dodger came out for an interview, and she and Anna played Super Kappa Creator with everyone.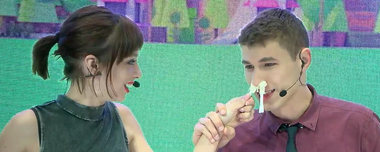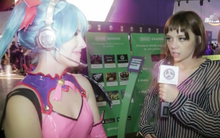 The fourth show was at 5pm on Saturday. Alex dropped hot soup (and then a person) on Joey from on top of a building. Anna did a package from the floor about cosplay. Alex interviewed Firefoxx and Caleb Hart, and they played "Emote Esplain," where they guessed words based only on Twitch global emotes. Then Jake the "Guinness World Records official" came out to watch them break made-up records.
The fifth show was at 10am Sunday. Jon Carnage showed up and wrestled a tree to death. Anna announced she'd hidden Alex's flash drive somewhere on the floor of Twitchcon, and if someone finds it they win a keyboard. Alex and Jon interviewed ManVsGame. They all played "Sub Seeker," where they played Super Meat Boy while calling out subscriber names.

The sixth show was at 5pm Sunday and closed out the convention. Alex made fun of the new Battlefield trailer. Anna and Alex rubbed lots of deodorant on Mike. Anna's hands stopped working. Alex handed out surprise awards on the convention floor. MissCookiez and Haylinic joined Alex and Jon Carnage to fingerpaint Twitch emotes. To close out the show, in a stunt that was later expanded upon in Attack Episode 208, Alex played Dark Souls using only his butt.
Ad blocker interference detected!
Wikia is a free-to-use site that makes money from advertising. We have a modified experience for viewers using ad blockers

Wikia is not accessible if you've made further modifications. Remove the custom ad blocker rule(s) and the page will load as expected.