"I blew my nose and it was spicy."
The Attack
episode 95 aired on 21 Oct 2015. It was hosted by
Kevin Pereira
and
Alex Corea
. The show was sponsored by Draft Kings.
Kevin announced the show's donation incentive: adding pumpkin spice flavored syrup to various food items to test if it made them better, $100 each. All the items were met before the end of the first Pile video! The incentive was increased to $1000 for Alex to do shots of the syrup. That was met before the end of the second video!
Alex was sexually attracted to a keyboard, so he threw a basketball at it. Yaniv took a bite out of a dildo sandwich.
Blythe presented.
Attack Top Knews
Edit
Battlefront will have 3 new modes and characters at launch
Mythbusters is ending :(
Star Wars The Force Awakens sold 200,000 tickets in 24 hours
Twitch app on PS4
In Depth
Edit
YouTube Red subscription service announced
Konami is denying Kojima left the company
Google offering free subscriptions to Google for Work to compete with MS Office
Dani Vierra appeared as a guest to discuss eSports betting, and Kevin and Alex put some money down on Draft Kings.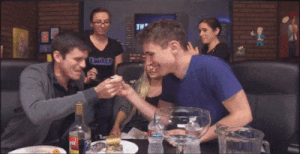 The pumpkin spice items were consumed. They intended to eat a blended concoction of all of them, but the habaneros were far hotter than any of them imagined and the show was derailed for several minutes while they all recovered. Alex did a syrup shot as per the wishes of the donors. Kevin mixed sardine juice in with the second shot and Alex nearly died.
The show closed out with an Assassins Creed Let's Play.
Ad blocker interference detected!
Wikia is a free-to-use site that makes money from advertising. We have a modified experience for viewers using ad blockers

Wikia is not accessible if you've made further modifications. Remove the custom ad blocker rule(s) and the page will load as expected.