"Guys, I was a weird white kid at one point."
"Why is that past tense?"
The Attack
episode 92 aired on 14 Oct 2015. It was hosted by
Alex Corea
and
Justin Small
.
Sports legend Shep Chestpass (Alex) joined the show to do the Draft Kings ad read.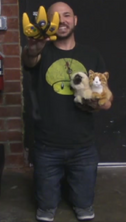 Alex's nephew Mikey (James) was on set and was supposed to be staying out of the way, but disrupted the show by showing off the game controllers he found in the dumpster and asking if Alex put them in his butt.
In a Dank Ranks segment, Alex presented the video game characters that were most likely to be able to beat him up. Alex said the number one was Duke Nukem, while the chat's pick was Machamp.
In The Rundown, Blythe presented:
Square Enix set some draconian rules for streaming their games on Twitch because of music copyright
Battlefront will not have any in-game chat servers
Battlefront announced rebalancing since the beta was very unbalanced against the rebels
Overwatch closed beta released in the Americas on October 27
Doom closed alpha for those who preordered very early
The show closed with TPOTSWIC and they streambombed VladimirMcDoogle.
Ad blocker interference detected!
Wikia is a free-to-use site that makes money from advertising. We have a modified experience for viewers using ad blockers

Wikia is not accessible if you've made further modifications. Remove the custom ad blocker rule(s) and the page will load as expected.