"He needs some milk!"
The Attack
episode 90 aired on 9 October 2015. It was hosted by
Kevin Pereira
and
Alex Corea
. Alex talked about his daredevil past. Kevin and Alex discussed Star Wars Battlefront.
We learned that whenever someone is too high or gets hurt, "he needs some milk!"
Liz and Blythe both presented The Rundown. The "Bliz" and "Blizbians" contractions of their names began in this episode and would become a thing. It was done alongside a Keynote presentation, which would become the format going forward. They discussed:
PS4 price dropping to $349
Just Cause 3 trailer
Team Fortress 2 Halloween maps
Adobe "monument mode" gets rid of anything that's moving in your images
Phil Spencer says he doesn't know if the XBox One will beat the PS4 in the long run
Apple used 2 different suppliers for the chip in the iPhone 6 and 6S, and the smaller Samsung ones drain battery faster
Rise of the Tomb Raider will have 300 microtransaction cards for side missions
AT&T added wifi calling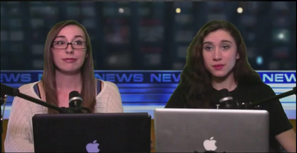 The show ended with TPOTSWIC and they streambombed SaraKateee.
Ad blocker interference detected!
Wikia is a free-to-use site that makes money from advertising. We have a modified experience for viewers using ad blockers

Wikia is not accessible if you've made further modifications. Remove the custom ad blocker rule(s) and the page will load as expected.