"This fuckin' show, man!" - Sandeep
The Attack
episode 78 aired on 4 Sep 2015. It was hosted by
Alex Corea
and
Sandeep Parikh
.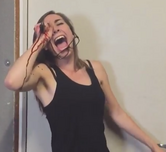 Alex threw a knife and accidentally stabbed Liz in the eye and then shot a sausage at her. The Attack's new "XXX Disney Soundtrack" was unveiled and promoted.
The Attack now has a flag in Rocket League.
In The Rundown, Blythe discussed:
Jimmy Kimmel is continuing to fire shots at Youtube Gaming
An insensitive slave-trade game got noticed recently and experienced a backlash
A video game where you throw things at Donald Trump
The show ended with TPOTSWIC.
Ad blocker interference detected!
Wikia is a free-to-use site that makes money from advertising. We have a modified experience for viewers using ad blockers

Wikia is not accessible if you've made further modifications. Remove the custom ad blocker rule(s) and the page will load as expected.