"OH GOD! HE PUT IT IN MY MOUTH! HE PUT IT IN MY MOUTH!!"
The Attack
episode 71 aired on 19 Aug 2015. It was hosted by
Kevin Pereira
and
Zack Pearlman
. This was the second Attack episode in which
Alex Corea
did not appear.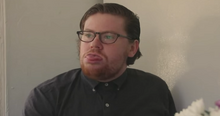 Kevin and Zack discussed their experiences with mushrooms. Then they discussed the scandal involving The Fat Jew, and Kevin discussed his experience working with him.
Zack showed his dating video, but we couldn't hear it very well. :(
In The Rundown, Liz discussed:
Fig, a Kickstarter competitor, is giving equity as an accredited investor when donations are made
An NFC device called the Amiiqo that emulates any Amiibo
Kevin interviewed Josh from Craft Vapery about a study in the UK about E-cigarettes being 95% safer than tobacco.
Rolljam, a device that can open any car or garage door
The new Google wireless router OnHub
Kevin and Zack kissed for subs and it was very romantic. The Kevin went in for more and chipped Zack's tooth.
The show ended with a quick TPOTSWIC, and they streambombed Numotthenummy.
Ad blocker interference detected!
Wikia is a free-to-use site that makes money from advertising. We have a modified experience for viewers using ad blockers

Wikia is not accessible if you've made further modifications. Remove the custom ad blocker rule(s) and the page will load as expected.