"'Wanna hold the baby?' 'No! I don't! Take your terrible baby back! Bring it back when it's a person!'" - Milynn
The Attack
episode 67 aired on 10 Aug 2015. It was hosted by
Alex Corea
and
Milynn Sarley
. The show first used the "smoke weed every day" sound for subscribers on this episode. Milynn discussed her hatred of babies.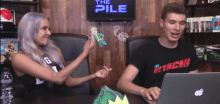 Alex rollerbladed down the street in a diaper and powered by a leafblower, yelling "twitch.tv/theattack" at people. Alex was supposed to get pudding blasted onto his face from a tube, but Blythe's lungs were not strong enough to make it happen. Then the stream went down for 15 minutes.
Liz presented the Rundown and discussed:
Overwatch announed the Lucio character
Spotify putting some services behind a paywall
Best Buy bundling a TV with XBox One packages
A YouTuber used a glitch to play the entirety of Fallout 3 as a baby
During the Rundown, Milynn and Liz decided they would give Alex a wedgie as a $250 donation incentive. It was of course met.
The show ended with TPOTSWIC and a double wedgie, and they streambombed GlydeTV.
Ad blocker interference detected!
Wikia is a free-to-use site that makes money from advertising. We have a modified experience for viewers using ad blockers

Wikia is not accessible if you've made further modifications. Remove the custom ad blocker rule(s) and the page will load as expected.