"I've never wanted to spike a dildo and run out of a store so much."
The Attack
episode 62 aired on 27 July 2015. It was hosted by
Kevin Pereira
and
Alex Corea
.
Alex talked about the sketchy massage parlor he goes to.
Kevin and Alex discussed MineCon at length.
Alex showed off the new cereal spoon that he got from Amazon, but it was actually a dildo with a spoon taped to it.
Kevin and Alex talked about Rocket League, because it's awesome.
Alex showed footage of 1920's baseball great Hopping Hector Homerunriguez (Eddie), the best bounce-catchman in the history of the sport.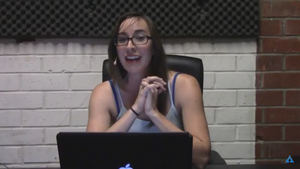 The Rundown was presented by Liz! She discussed:
Razer acquired Ouya for its ForgeTV
Hori TAC4 Keyboard and Mouse for PS4
WWE 2k16 will have T-800 and T-1000 playable characters
A tech company claims to have found a huge security hole in Android
FCC approved AT&T taking over DirecTV
Ad blocker interference detected!
Wikia is a free-to-use site that makes money from advertising. We have a modified experience for viewers using ad blockers

Wikia is not accessible if you've made further modifications. Remove the custom ad blocker rule(s) and the page will load as expected.