The Attack episode 53 aired on 6 Jul 2015. It was hosted by Alex Corea and Alison Haislip. Liz ran the board.
Community member FlyingQueso made a Squarespace site that featured Alex in pain and it was featured on the show.
Alex shone a light on the harsh world of Spaghetti Olympics training.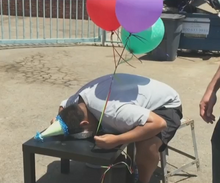 The AMERICANNON was brought back out to show off shotgunning a beer, Attack-style. This ruined Eddie's birthday.
Alex misunderstood Shark Week as "Shart Week."
The show ended with TPOTSWIC, and Alison broke her mic and wept. The streambomb recipient was Swifter.
Ad blocker interference detected!
Wikia is a free-to-use site that makes money from advertising. We have a modified experience for viewers using ad blockers

Wikia is not accessible if you've made further modifications. Remove the custom ad blocker rule(s) and the page will load as expected.