The Attack episode 49 aired on 26 Jun 2015. It was hosted by Alex Corea and Anthony Carboni.
Alex showed off his Xibit-style show intro and his BIG JEANZ. Then he broke Eddie's computer monitor with a hammer, for real.
Greg Grunberg appeared briefly and plugged the "Talk About It for Epilepsy" charity stream that he hosted with Rick Harrison on The Attack channel the day after this episode.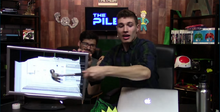 Ad blocker interference detected!
Wikia is a free-to-use site that makes money from advertising. We have a modified experience for viewers using ad blockers

Wikia is not accessible if you've made further modifications. Remove the custom ad blocker rule(s) and the page will load as expected.