The Attack episode 45 aired on 17 Jun 2015. It was hosted by Kevin Pereira and Alex Corea.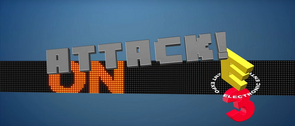 Kevin and Alex demoed RIGS for Sony's Project Morpheus (which would later be renamed Playstation VR).
Anthony Carboni appeared and talked about The Last Guardian, Street Fighter 5, Final Fantasy 7 Remake, Star Wars Battlefront, the new Uncharted, and Playstation Vue since he's Sony's paid corporate shill. :)'
Kevin talked with the developer of Earth Defense Force 2.
"Snake Eyez" joined as a guest and talked Street Fighter 5 and pro gaming in general.
Jake Strouckel showed off some PDP controllers.
Kevin talked (unfavorably) about Cyberith's Virtualizer.
Larry "Major Nelson" Hryb appeared as a guest to talk about XBox.
Malik Forte and Dan Casey talked Star Wars Battlefront, Tony Hawk Pro Skater 5, Transformers, and Gears of War Ultimate Edition.
Kevin got to play an Oculus Touch and loved it. Palmer Luckey was interviewed.
Ad blocker interference detected!
Wikia is a free-to-use site that makes money from advertising. We have a modified experience for viewers using ad blockers

Wikia is not accessible if you've made further modifications. Remove the custom ad blocker rule(s) and the page will load as expected.