"I know the audience out there... they love exclusives, they love behind-the-scenes access, unprecedented reveals! And you're gonna get none of that here today, my friends!" -KP
The Attack
episode 44 aired on 16 Jun 2015. The show was produced live from the floor of E3. It was hosted by
Kevin Pereira
and
Alex Corea
.
Jake Strouckel appeared in a package with Alex to discuss PDP's Afterglow Wireless Prismatic controller for the XBox One. This was prior to Jake joining the Attack staff.
Zeke Sparkes from Blue Mammoth Games appeared in a package with Kevin to discuss their game Brawlhalla.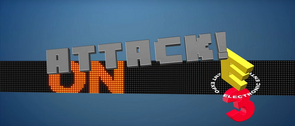 Ad blocker interference detected!
Wikia is a free-to-use site that makes money from advertising. We have a modified experience for viewers using ad blockers

Wikia is not accessible if you've made further modifications. Remove the custom ad blocker rule(s) and the page will load as expected.