"Oh my God, this is happening!" - Yaniv
The Attack episode 31 aired on 15 May 2015. It was hosted by Alex Corea and Milynn Sarley. Alex was late to arrive because he was attending a Splatoon event, so Yaniv Fituci filled in as host for the first 15 minutes of the show.
The show featured a bit where the entire staff smashed a keyboard and mouse outside to torment Alex, but he was more concerned about the hammer they used. This was the first instance on the show of a bit that was set up via scripted dialogue after showing a video, something that would become a staple of the show moving forward.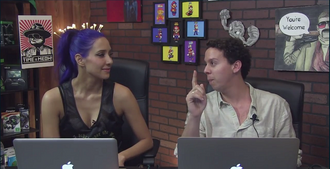 Ad blocker interference detected!
Wikia is a free-to-use site that makes money from advertising. We have a modified experience for viewers using ad blockers

Wikia is not accessible if you've made further modifications. Remove the custom ad blocker rule(s) and the page will load as expected.