"Hogwash and poppycock!"
The Attack
episode 287 aired on 9 August 2017. It was hosted by
Alex Corea
and
Erin Steeby
.
Alex announced the Snappy Awards. Members of the Discord community were asked to send Alex snapchats in 3 different categories: Best Video Game Impression, Best Review of The Attack, and Best Overall. The nominees for Best Video Game Impression were HinataLover92, ShannonCR, and CMNickGaming, with CMNickGaming taking the award! Alan brought out the trophy, and Alex replaced it with a grenade to get rid of him.
After a Pile video, Blark the puppet returned to the show and intruded on the production. He repeatedly shot Jason with a crossbow and nearly killed Rachael and her baby with an explosive chair. Unfortunately, Yaniv happened upon the chair and exploded into a skeleton. Then Blark crossbowed some potato salad for dinner.
Blark arranged a staring contest between Jason and Coral, and Jason ended up with an arrow in the eye!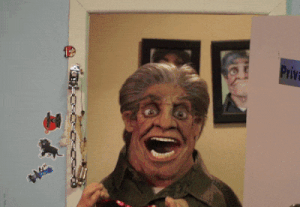 After a Twitch-only segment and some BTS shenanigans, The Snappies returned with the Best Review of The Attack category. Nominees were Rey Gonzalez, Zanerli, and SonOfOrpheus. SonOfOrpheus took the prize, and Alan was chased off with a box of angry weasels!
A precut "Behind The Pixels" segment gave out some dubious facts about Super Mario 64.
The Snappies concluded with Best Overall Snap. The nominees were Best Lettuce, ijynx, and ZMaster92. The winner was ijynx, but ZMaster totally got robbed. Alan was was thrown off a roof into a dumpster.
This Was A Thing featured Super Soakers! Alex shot Erin with the totally dangerous Super Soaker CPS, and after some brief prep from Princess Hotdog, Alex got shot with a custom Attack Blaster 4200, wielded by Corrado.
The stream closed out with TPOTSWIC.
Ad blocker interference detected!
Wikia is a free-to-use site that makes money from advertising. We have a modified experience for viewers using ad blockers

Wikia is not accessible if you've made further modifications. Remove the custom ad blocker rule(s) and the page will load as expected.