"Shut up and just take it." - Erin
The Attack
episode 286 aired on 7 August 2017. It was hosted by
Alex Corea
and
Erin Steeby
.
Erin sung a song about a snake eating her.
After a Pile video of Witwix reacting to his live subscriber count on stream, Alex and Erin reacted to The Attack's! The count seemed to go up when Erin was onscreen and down when Alex was, but it turned out the extra subs were for Yaniv and his sexy jorts. Then everyone was buried in a pile of Emmys.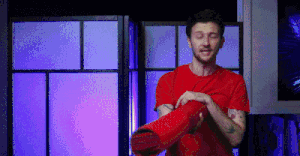 A guy with a beam sticking out of his heart (Rob) came by the set and stood up for his rights as an equal while accidentally braining everyone with his beam. That includes Jason, who was dressed as a clown again. He accidentally decapitated Eddie, Alan, and Coral, and then accidentally pressed the "Do Not Press" button in the studio and blew it up.
After a Twitch-only segment, App Attack featured "Saraha," an app that allows people to anonymously send notes to others. Previously, they asked the Discord community to send notes to Alex to be read on the show. They were mostly insulting, as would be expected.

In a prerecorded segment called "Dank Memeories," Sir Memes-a-lot (Steve Zaragoza) discussed the "My Body Is Ready" meme.
In Gostalgia, Alex and Erin discussed some C-list game mascots of the past: Cool Spot, Bonk, and Bomberman. Erin declared her love for Cool Spot.
After stopping down for pickups and BTS shenanigans, they staged a computer-simulated no holds barred wrestling match among the three mascots. Erin said that if Cool Spot didn't win, then Alex would get to hit her with a folding chair. Cool Spot DID win, however, and he arrived in the flesh (Corrado) and beat Alex with a folding chair instead!
The stream closed out with TPOTSWIC (quickly, because Alex was in considerable pain).
Ad blocker interference detected!
Wikia is a free-to-use site that makes money from advertising. We have a modified experience for viewers using ad blockers

Wikia is not accessible if you've made further modifications. Remove the custom ad blocker rule(s) and the page will load as expected.