"Don't drag anybody through a windowsill. You're just gonna bonk your head and there's gonna be a blanket over them, and someone's gonna have to lift that blanket."
The Attack
episode 284 aired on 2 August 2017. It was hosted by
Alex Corea
and
Erin Steeby
.
After a Pile video, Alex and Erin told jokes and got HUGE reactions from the crew. Alex dumped Intern Randy in a trash can, and Erin high-fived Intern Alan so hard his hand came off and he bled out and died.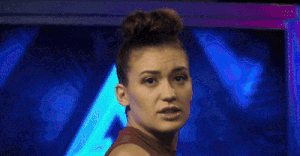 Another Pile video featured a Japanese game show where a guy had to hide the fact that he was wearing a backless tuxedo from his date. Alex revealed that he also had no back on his wardrobe (though his back looked suspiciously like Corrado's back). Erin's wardrobe was also backless (and her back was played by Mike's back), but her prank ran deeper. She'd absorbed Alex's mother's soul and trapped it in her back, or was it her twin she'd absorbed??
During a Twitch-only segment, Erin told a fascinating story about dragging her drunk friend through a window and almost killing her. Alex ate cold chili and made Erin gag.
The Winner of the Web was a glitch video of Bulletstorm where the dialogue was missing. Alex and Erin explained that the show's soundboard was corrupted and they'd lost their sound effects. General Sarrano from Bulletstorm (Josh) showed up and Alex and Erin fought him off using some hastily-made sound effects that they'd asked the Discord to send in!
Alex and Erin read #AttackOnDXP tweets to the Twitch audience. The show was sponsored by Razer and Alex announced a Razer keyboard giveaway to a random person who tweets the show using that hashtag.
BTS shenanigans followed, and Attack Classics featured the Dr. Disrespect cut from Episode 237 and an "Event Horizon" horror cut from Episode 222.
Trivia Attack featured guests Ify Nwadiwe and Strawburry17 (Meghan Camarena) against Erin. They played "Name that Frame" where they had to identify still frames from video games, and "Dialogue Box" where they filled in missing lyrics from the DK Rap (a callback to Episode 251). The final game was "Culinary Code," where each contestant had to identify which game inspired real-life food, or else they'd get that food in the face. Each food was delivered to set by Princess Hotdog. Erin and Ify each got food in the face, but Strawburry17 stayed clean and was our winner!
The stream closed out with TPOTSWIC.
Ad blocker interference detected!
Wikia is a free-to-use site that makes money from advertising. We have a modified experience for viewers using ad blockers

Wikia is not accessible if you've made further modifications. Remove the custom ad blocker rule(s) and the page will load as expected.