"He was like the Harlem Globetrotters but with a dead father."
The Attack
episode 279 aired on 21 July 2017. It was hosted by
Alex Corea
and
Erin Steeby
.
Erin gave us all lots of facts about sheep and goats.
After a Pile video of a truck whose horn was wired to its brake pedal, Alex said he'd done one better and pranked his friend Little Kip (Rob) by surgically installing a horn in his voice box. Little Kip broke a bowl of chili and his father's urn when startled by the horn. Alex and Erin then discovered they too had horns, which was hilarious until the horns attracted a boat from the harbor. The boat crashed into the studio and ran them over.
A quick cut played featuring Justin Small watching the show with Alex.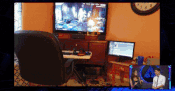 A after a quick Twitch-only segment, a segment called "Bad Battlestations" followed. Community members had previously submitted photos of their shameful gaming and computer setups, and Alex and Erin picked on the most egregious ones while Kevin wildly reacted. Photos from John, SonOfOrpheus, JediNixon, Mayburgers, KennethPereira, and Viliahna were featured.
A PUBG Machinima called Battlegrounds Bootcamp played.
TPOTSWIC followed, and a Hardware Graveyard featured the NES Power Glove.
BTS shenanigans were hosted by Nick while the cameras were repositioned, and Attack Classics played the Herpes Billboard field package from Episode 162.
After setup was complete, Alex showed off his new creation, the Power Glove 2.0. Josh was very excited that "it's ALIVE!" The Power Glove 2.0 featured several modifications, including a two places to mount fidget spinners and a flame thrower to destroy regular Power Gloves. Which it did.
The stream closed out with more TPOTSWIC.
Ad blocker interference detected!
Wikia is a free-to-use site that makes money from advertising. We have a modified experience for viewers using ad blockers

Wikia is not accessible if you've made further modifications. Remove the custom ad blocker rule(s) and the page will load as expected.