"Erin, why'd you choose B?"
"....it's a good even number?"
The Attack
episode 278 aired on 19 July 2017. It was hosted by
Alex Corea
and
Erin Steeby
.
After a Pile video of someone impersonating a heating duct, Nick revealed that he'd been impersonating the top of the podium for the past six days! Randy revealed he'd been hiding as Erin's necklace for two weeks, and Alan revealed he'd been hiding as Alex since 2007!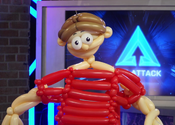 After another Pile video of someone impersonating some balloons, the entire bit repeated itself a second time (with a new montage featuring Jeremy as a doctor) but instead of Alan, Alex had been replaced with a balloon Alex!
After a quick BTS segment, Sick Footage featured:
Hot Newz 64
Secret Video Game Tips, Tricks and Strategies
Learn to Master the Internet
ParkerGames and Jericho joined as guests to play Trivia Attack with Erin. The first round was "Dank Beetz," where they identified video game music. The next round was "The 'E' list," where they identified silhouettes of video game enemies.
BTS and TPOTSWIC followed while the stunt was prepared.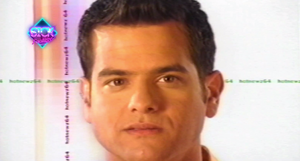 The final round of Trivia Attack was "Water Level Logged," where the contestants guessed on questions related to water levels in games, and those who were wrong were dunked in a dunk tank! The final question was rigged and had no right answer. Erin won the contest, and her prize was having to pump all the water out of the dunk tanks!
Ad blocker interference detected!
Wikia is a free-to-use site that makes money from advertising. We have a modified experience for viewers using ad blockers

Wikia is not accessible if you've made further modifications. Remove the custom ad blocker rule(s) and the page will load as expected.