"I'm gonna get you off in 3 seconds!"
The Attack
episode 274 aired on 10 July 2017. It was hosted by
Alex Corea
and
Erin Steeby
.
Inspired by a Pile video, Erin showed off her prowess at using her butt to do dexterous work, a skill she learned on the Squat Team. She solved a Rubik's cube with her butt, and then fixed her grandma's computer with her butt. When Erin's grandma produced a bomb from her purse, Erin's butt was challenged, but proved ready.
After the bomb diffusal, Alex and Erin answered some TPOTSWIC questions read by Coral while the set was turned over.
The show was sponsored by Brook Linen (promo code ATTACK).
The WInner of the Web was a commercial for the Pony Up Daddy, a saddle for parents to wear while their kids ride on their backs. Alex and Erin competed to see which one could ride on the other's back for longest. The prize was the Golden Cowboy (Josh), though he was not painted gold because Yaniv had stolen his paint and apparently huffed it.
Alex easily won the first round, but Erin called upon a champion to ride for her, as is her right. Giant Jay (Jason Scott Jenkins) arrived and rode to a victory (by beating the everloving crap out of Alex).
A package of embarassing moments from E3 was played.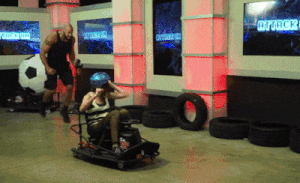 Alex and Erin thanked subs and donors, and BTS shenanigans ensued while the set was turned over.
In the newly-revamped Attack On segment, Alex and Erin played Rocket League IRL with upgraded versions of the now familiar 3rd-person camera rigs. Erin won easily, which meant Alex was subjected to a penalty kick punishment - where HE was the ball!
After signing off of the Disney taping, the show closed out with TPOTSWIC.
Ad blocker interference detected!
Wikia is a free-to-use site that makes money from advertising. We have a modified experience for viewers using ad blockers

Wikia is not accessible if you've made further modifications. Remove the custom ad blocker rule(s) and the page will load as expected.