"Are you a lumberjack, 'cause I would really enjoy those... leaves and trees being... chopped down...."
The Attack
episode 271 aired on 26 April 2017. It was hosted by
Alex Corea
and
Erin Steeby
.
Erin talked about setting her hair on fire one time.
Alex chugged a bottle of steak sauce for some reason.
The show was sponsored by Warhammer 40K: Dawn of War 3.
Erin did a field package where she trained in Muay Thai to get ready for the gladiator battle that is happening next episode.
In a segment called "Hardware Graveyard," Alex and Erin discussed the XaviX Port, the first console to use motion control. They bought one, and a bowling game for it, but after 3 hours of setup they still couldn't get it to work. They declared the hardware dead and the Smash Monk (Nick) smashed it with a baseball bat.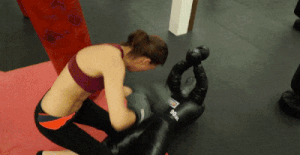 Hot n' Streamy featured:
Last_Grey_Wolf, who drove a car into a downed teammate in PUBG and it stopped on a dime and didn't damage the guy he hit.
PsiSyn, who encountered a rocking truck in GTA5
Dimes_10, who discovered frying pans are bulletproof in PUBG
Huffprobs, who took out his whole PUBG team by swinging a frying pan in a vehicle
Alex swung a frying pan around and killed Joey, a cop (Corrado), and a doctor (Alejandro).
The show closed out with TPOTSWIC, and they thanked Phil Gavlan for sending a serving tray from the Amazon wish list and sewing machine for Coral!
Ad blocker interference detected!
Wikia is a free-to-use site that makes money from advertising. We have a modified experience for viewers using ad blockers

Wikia is not accessible if you've made further modifications. Remove the custom ad blocker rule(s) and the page will load as expected.