"He really shred the gnar!"
The Attack
episode 260 aired on 31 March 2017. It was hosted by
Alex Corea
and
Erin Steeby
.
In the spirit of Battlegrounds eclipsing League of Legends as the most popular game on Twitch for the longest time of any game, Alex unveiled the Attack Battle Royale, a single-elimination Nerf gun fight that would take place later in the show. The competitors would be Alex, Erin, Yaniv, Joey, Jeremy, and Coral.
Erin told us about the chain mail she keeps in her closet.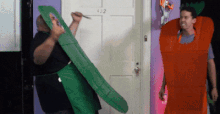 Alex couldn't believe that Erin hadn't heard of the vegetable rap scene, or "Hip Crop." Erin said that sounded ridiculous and a zucchini (Big Mike G) called her out on it! He was about to go after her with a vegetable peeler when a carrot (Yaniv) stopped him and picked a fight. A cat (Corrado) broke it up, but then chased the zucchini off set.
Streams of the Week featured:
ELEAGUETV, who had an altercation between 2 Street Fighter 5 players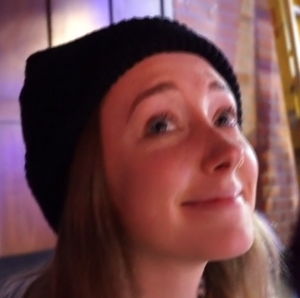 Erin spit a few hot bars, and when the camera cut to Coral she shook her head in disapproval. Coral then dropped some fire of her own.
TheDudeTV, whose Dark Souls 3 game was interrupted by his Kinect thinking it saw a QR code
Mophead24, whose yoga ball popped while he was sitting on it
TPOTSWIC followed.
The time had finally arrived for the Battle Royale! Kevin came out to introduce the competitors and commentate the match. The battle came down to Joey and Alex. Alex appeared to have bested Joey, but then Rachael came out of nowhere to secure the victory!
Since there was cheating all around, there was controversy as to who had won. Alex and Joey settled it with a duel. Both cheated in the duel, so Coral was proclaimed the winner!
Ad blocker interference detected!
Wikia is a free-to-use site that makes money from advertising. We have a modified experience for viewers using ad blockers

Wikia is not accessible if you've made further modifications. Remove the custom ad blocker rule(s) and the page will load as expected.