"Your chest is an example of what's wrong with this place."
The Attack
episode 254 aired on 17 March 2017. It was hosted by
Erin Steeby
. The rest of the staff took turns sharing hosting duties and presenting segments.
Alex
was at South by Southwest along with
Kevin
,
Yaniv
,
Corrado
, and
Jake
, so the rest of the staff put on the show without them!
Erin mentioned they'd hijacked the show, and Dynfeld perked up at the mention of the word "hijacked."
Joey assisted Erin in hosting The Pile. She tried to cut his tie into a skinny tie to resemble Alex's ties, but the scissors were no match for it. Erin and Joey told terrible jokes, and the rest of the crew imitated Joey's laugh to make him feel more appreciated.
Joey revealed that he really loves ice cream and that he writes ice cream bits into the show just so that there will be some around. Then he also revealed that he used the emergency credit card Yaniv left them to rent an ice cream machine. He said he'd always wanted to lay under one while someone pulled the handle. Erin obliged, but went way overboard.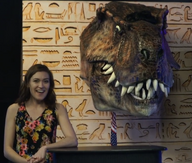 In the spirit of Kevin just volunteering people for things, Joey put up a strawpoll to see who else in the studio would get an ice-cream waterboarding. Dynfeld again perked up at the mention of "waterboarding" and offered to help host the show! He showed a video and made some questionable comments, in his inimitable style.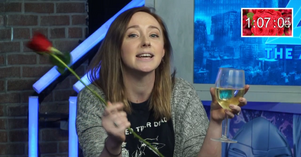 Dynfeld tried to play another video, but found that it had been replaced with a clip from The Bachelor. Coral was unmasked as the culprit. She stormed the set, saying that if Joey got a soft serve machine then she should get time to talk about trashy reality TV. She proceeded to drop 90 seconds of rapid-fire Bachelor analysis.
Erin tearfully broke up with Coral and professed her love for Jason because she just loves the way he explains things.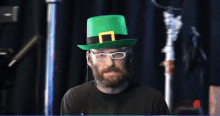 Jason explained St. Patrick's Day.
The show was sponsored by Creature Quest, and Erin turned into a wizard during the read.
Erin and Nick presented the first Steeb the Weeb segment where they both weeb'd out, hard. Nick put on a Harajuku goth girl dress and looked kawaii af.
Erin and Nick disagreed as to which of them had more knowledge of Japanese culture, and then about who knew more about games, so Joey solved the dispute with Jeo-parody! Nick and Erin competed, as did the "10-year defending champion" Lostradamus (Los). Erin won (to the surprise of all involved).
A special all-play TPOTSWIC followed. The results of the strawpoll were revealed, and Coral was the top vote-getter! She fervently declined to participate, so Erin took her place and got ice-cream-boarded to close out the show.
Ad blocker interference detected!
Wikia is a free-to-use site that makes money from advertising. We have a modified experience for viewers using ad blockers

Wikia is not accessible if you've made further modifications. Remove the custom ad blocker rule(s) and the page will load as expected.