Alex: "Horses are terrible."
Erin: "No, I mean you can't eat 'em. In some places you can eat 'em."
The Attack
episode 252 aired on 13 March 2017. It was hosted by
Alex Corea
and
Erin Steeby
.
Eddie began the interview to save his job after being fired on the previous episode. He was to answer questions submitted by viewers on Snapchat, and the viewers would vote in a strawpoll on whether or not he could keep his job. He answered questions from Camilla and Zanerli.
Alex showed a CS:GO video and Erin didn't understand it. Alex and Eddie broke it down for her bit by bit until she got what was going on.
Erin discussed eating horse meat.
Eddie answered more viewer-submitted questions from LargoSensei, ShannonCR, and Kyle Clark.
Alex wanted to show the trailer for the new Edgar Wright movie Baby Driver, but was unable because of copyright issues. Alex took 30 seconds to "cut together" his own version of the trailer.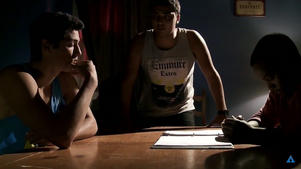 In Sick Footage, they featured:
How to Build Killer Arms
How Can I Tell If I'm Really In Love
Staff Infection: Mayron's Film School Project "Authority"
In a new segment "Attack Classics," they showed a clip of Alessandra Torresani and Alex playing Dangerbox from episode 140.
Hot n' Streamy featured:
The Capcom Pro Tour Finals, where some Street Fighter V players engaged in some trash talking
Rocket League Championship Series, who really needed a cut while drinking Brisk for product placement
Alex started chugging Clamato like a shill. He had lots of trouble keeping it down.
IAmChongCho, who was misinformed as to what LMAO stands for
Eddie answered more questions from MoreNothing, Aaron Sisson, Kaerf, and LittleMike1145. He didn't know what the Pythagorean Theorem is, but neither did Erin. Eddie was given one more chance to curry favor by chugging Clamato, which he did. He was utterly unable to keep it down.
The show closed out with TPOTSWIC, and the viewers decided that Eddie could keep his job!
Ad blocker interference detected!
Wikia is a free-to-use site that makes money from advertising. We have a modified experience for viewers using ad blockers

Wikia is not accessible if you've made further modifications. Remove the custom ad blocker rule(s) and the page will load as expected.