The VOD of this episode is unreleased.
Alex: "That'll puncture a titty I think."
Erin: "Not my titties!"
The Attack
episode 242 aired on 15 February 2017. It was hosted by
Alex Corea
and
Erin Steeby
.
Intern Chase's ridiculous tounge made another appearance.
Alex listed the top 5 video game aliens he would like to have sex with.
Yaniv's affinity for VR porn and using VR to get women were discussed.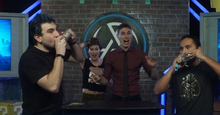 Nick and Joey competed to see who could shotgun a Diet Coke the fastest, since Nick was bragging about his shotgunning abilities following the previous episode. Not only did Joey win, but Nick didn't even know to open the top of the can.
A promo for the Type Racers competition on the next episode was shown.
Alex interviewed the band Wavves, and then they and rapper Antwon competed in the "Wavves Wave Challenge." They fired the tennis ball cannon, a sweet Nerf gun, and a "sub"-machine gun loaded with a meatball sub at members of the crew as they advanced at them.
The show segued into a 2v2 GTA5 match with Wavves vs. Antwon and Blake Anderson.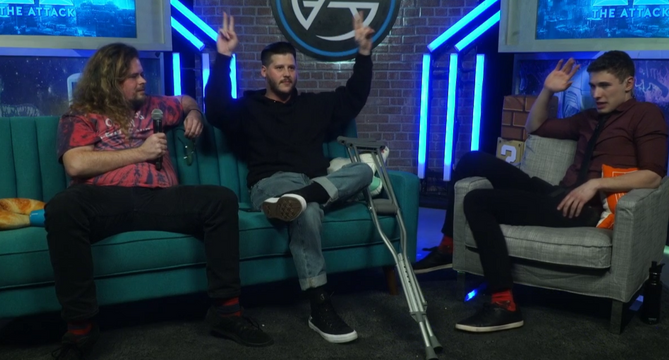 Ad blocker interference detected!
Wikia is a free-to-use site that makes money from advertising. We have a modified experience for viewers using ad blockers

Wikia is not accessible if you've made further modifications. Remove the custom ad blocker rule(s) and the page will load as expected.