"I'M IN LOVE!"
The Attack
episode 240 aired on 10 February 2017. It was hosted by
Alex Corea
and
Erin Steeby
.
Erin didn't know who Pewdiepie is.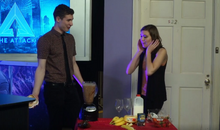 Alex got a new smoothie recipe from a Pile video. He and Erin then made them and drank them on stream, and both nearly puked.
Tom Cruise (Jeremy Hache) returned to the studio and yelled some more. It turns out he'd slashed Dynfeld's tires so that he could take his place on the show.
Alex surprised Erin with a geography pop quiz.
Tom Cruise killed and assimilated the entire crew with his Scientology magic.
Green Light District discussed the fact that Steam Greenlight is being shut down, which will effectively end the segment. It featured:
Attack of the Giant Mutant Lizard
Flyaway (Alex was bad at it)
Lone Water
Streams of the Week featured:
SpamFish, who accidentally alt+F4'd his game. Tom Cruise showed up again, but Alex turned on the Cruise Control switch by the door and got rid of him
After the SpamFish video, Erin revealed that she doesn't know what alt+F4 does. Alex then convinced her to delete System32 from her computer, so Joey brought it out and Alex pretended to do so (and shut the computer down when she wasn't looking).
an unnamed streamer, who streams in Japanese and took a trippy Shake Weight break
RTXAustralia, who accidentally streamed his personal email address and got tons of emails from viewers
Alex showed an email address that he accidentally made public and got a bunch of emails from hot ladies. Erin pointed out that the emails were actually just spam.
Alex thanked viewers for sending items from the Amazon Wish List:
T47 for clothespins
JJ169 for a screwdriver set and paper plates
SonOfOrpheus for a mop and mop bucket
TommieR for coffee cups for Steebs

Alex announced that there will be the eSports throwdown of the century on the next episode: staff TypeRacer races! (that event was eventually pushed to
Episode 243
)
The show ended with TPOTSWIC, and Alex spilled some of the nasty smoothie on the viewer gifts and an expensive piece of equipment, necessitating the use of the new mop.