The Attack episode 211 aired on 2 Nov 2016. It was hosted by Alex Corea and Sammie Fran Teran.
Alex recreated an explosion from a Pile video involving Mentos, Coke, Nutella, and a condom. Jeremy was killed by the Mentos shrapnel.
Then Alex jumped over a small box and was congratulated by a bunch of dudebros with no sense of personal space.
Nick Limon presented an Attack on Titanfall 2 segment. Then a Titanfall Battle Royale ensued in a bouncy house.
Prior to the show starting Coral fell and broke her nose during the testing for the bouncy house stunt. Footage of this was shown on the following episode.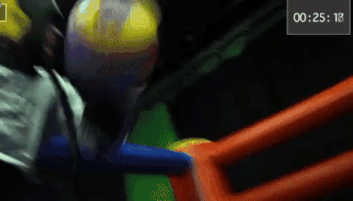 Ad blocker interference detected!
Wikia is a free-to-use site that makes money from advertising. We have a modified experience for viewers using ad blockers

Wikia is not accessible if you've made further modifications. Remove the custom ad blocker rule(s) and the page will load as expected.