Anna: "So many times you say things and I wish I was never born."
The Attack
episode 200 aired on 5 October 2016. It was hosted by
Alex Corea
and
Anna Lore
.
There was an avalanche of Twitch subscriptions. This was the first show after Twitchcon 2016, where Twitch Prime subs were introduced. Alex announced that if they hit 120 subs they'd give away a DX Racer and at 200 they'd shave Corrado's head (which he'd refused to let happen earlier). Alex never thought they'd hit 200....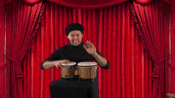 In between the ridiculous number of subs coming in, Alex announced that Gerard Deparjew was back to create poetry for every sub! There was literally no way that was possible.
A full 25 minutes into the show, they made the decision to call out subs at the end of each bit so that the show could proceed. Alex announced that today's Pile would be another round of the Attack's Greatest Shits, a collection of the worst Attack bits of all time.
Alex reaired the "Papa Butts" bit from Attack Episode 138 that was the first thing that KevCap cut for the show (as an employee, anyway). Alex reshot Papa Butts footage for him live on the show, and KevCap would edit it during the show to redeem himself.
Alex played the bbws protein video again and brought out Eddie, who was given a chance to redeem himself by speaking eloquently. He began reciting Hamlet's soliloquy, but the studio had interspersed parts of the bbws protein speech into it on the teleprompter!
Anna played the clip of Alex throwing up on Sara Underwood from Attack Episode 191. Alex played a Snapchat that Sara sent him and he got sick again, but from the other end. John Twitch (Jeremy) presented Alex with an award for "Most Refined Humor on Twitch."
Anna said that that was the grossest thing that she'd ever seen on The Attack, but Alex said that that honor belonged to her! He played the clip of Wes emerging from Anna from Episode 169.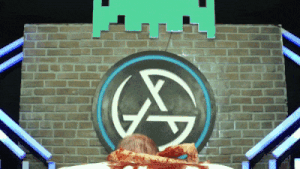 Alex played the clip of Wes dying from Episode 186. Anna began violently coughing, so they laid her down on a table and a baby Wes came out of her stomach, Alien-style!
The show was sponsored by Mafia 3.
Anna played her Snapchat story about Darude at Twitchcon and her quest to hear Sandstorm.
A special TPOTSWIC followed where instead of answering questions, they read comments from viewers about their favorite Attack episodes.
KevCap's new Papa Butts edit was played, and then Alex played the version he "edited."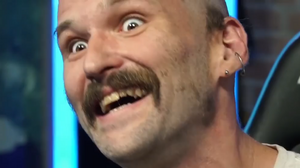 The 200 sub goal was met! Corrado's head shaving was moved to the next episode, and a wheel was spun to see who would be shaved today: KevCap! Jason stepped in to save him though, and Jason shaved his whole head and beard!
Ad blocker interference detected!
Wikia is a free-to-use site that makes money from advertising. We have a modified experience for viewers using ad blockers

Wikia is not accessible if you've made further modifications. Remove the custom ad blocker rule(s) and the page will load as expected.