"It's Greg Grunberg!"
"Wait, are you the Cheeto Fucker?"
The Attack
episode 2 aired on 18 February 2015. It was hosted by
Kevin Pereira
,
Alex Corea
, and
Alison Haislip.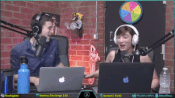 Alison discussed pliot season in LA and cramming to memorize lines.
For a sub goal of 20, Alison would play "Dildo or Destiny," where she had to identify if a particular name was a dildo or a gun from Destiny. At 40 subs, the game would include a pudding punishment for losing.
Greg Grunberg appeared as a guest. Alison did a slow jam on the lyrics of "Errbody Know" by Lil B while Greg served as hype man.
Greg told his wedding proposal story.
In The Rundown, everyone discussed:
Eurogamer is dropping their game rating system
More that 1/3 of 2014's big budget games got a day 1 patch
Comcast ripped off Apple's tagline for their new remote
Sony exiting TV market
A less-lethal gun option
Kevin told a story about pulling a gun on a guy that was breaking into his house.
TPOTSWIC followed.
Alison played Dildo or Destiny and lost, but could not fulfill her pudding punishment since she had another engagement after the show. Alex filled in for her and received the pudding.