"If I'm having a pizza to myself that's a good night, baby! You roll up that pizza, you eat it like a burrito, and you go on with the rest of your life."
The Attack
episode 197 aired on 21 September 2016. It was hosted by
Alex Corea
and
Ify Nwadiwe
.
Alex showed a clip from this weekend's Game 4 Paul marathon where Kevin promised to shave Corrado's head as a donation incentive. Corrado refused prior to the last episode, so Alex called him out. When he again refused, the three "Los"es (Los, Eddie, and Nick) dragged him to the set, but he gave Alex the slip and replaced himself with a watermelon.
Ify was triggered by people playing online games over 4G.
Ify trapped Corrado with some AARP signup forms, but he gave them the slip again with a steak with a wig on it.
The show was sponsored by Dollar Shave Club. Alex showed off the back hair that he shaves with Dollar Shave Club razors. Ify shaved him with a string trimmer.
Nice Assets featured a video edit by Jason_Woot.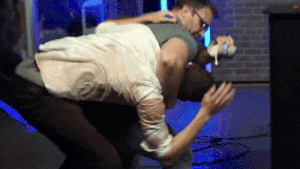 Alex showed a clip from a test shoot the studio did last week where Eddie gave commentary on eSports. Eddie was very sick that day and had a difficult time speaking. The following rambling, incoherent sentence continues to haunt him to this day:
"I would personally like to have see who the best pro team is right now, but as a little sides tournament I would actually kind of enjoy to see what best country is for CS:GO."
In particluar, "best pro team" came out more like "bbws protein," which usually what the phrase is called in the
community
.
The clip was played over and over while being analyzed and mocked by the whole staff. Eddie dabbed and left the set.
TPOTSWIC followed.
Ify stabbed Corrado to death because he confused "shave" with "shank." Corrado got back up and chased Alex around the set. They both ended up covered in clam chowder somehow.
At the close of the show, the bbws protein clip was played over and over again for several minutes before the stream cut.
Ad blocker interference detected!
Wikia is a free-to-use site that makes money from advertising. We have a modified experience for viewers using ad blockers

Wikia is not accessible if you've made further modifications. Remove the custom ad blocker rule(s) and the page will load as expected.