"You're a small white woman, you probably enjoy the Sims."
The Attack
episode 194 aired on 12 September 2016. It was hosted by
Alex Corea
and
Megan Lee Joy
.
Alex plugged the Game 4 Paul marathon happening this Saturday.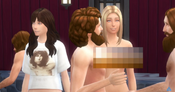 The "Wicked Woohoo" mod for The Sims was discussed and shown off (as much as was possible on Twtich anyway).
Megan made an automated Facebook slide show from his "anniversary weekend" album, which showed Amy rejecting his marriage proposal and breaking up with him, and the terrible aftermath.
In an Eddie v. Spaghetti segment, Eddie had 20 seconds to finish eating a random pasta. Today's selection was angel hair. He was unfortunately not up for the challenge.
The ASSFLAP 1.0 mission from the previous episode was discussed. A video enhancement done by Skataneric appeared to confirm that the Game Boy was in fact on, it was just impossible to see the screen against the brightness of the sun. As the craft was lost at sea, Alex and Dr. Butts gave it a solemn 21 bun salute send off.

Alex discussed features of the Halo 5 PC release. Alex wanted to play a custom map on stream, but Joey couldn't get it to work. :(
Nice Assets featured a video edit by JesTr82.
Joey got Halo to work but Alex was bad at it, as he is bad at all games.
The show closed out with TPOTSWIC.
Ad blocker interference detected!
Wikia is a free-to-use site that makes money from advertising. We have a modified experience for viewers using ad blockers

Wikia is not accessible if you've made further modifications. Remove the custom ad blocker rule(s) and the page will load as expected.