"I have been shot several times! Let me process this!"
The Attack
episode 193 aired on 9 Sep 2016. It was hosted by
Alex Corea
and Clare Grant.
Alex announced that they would be attempting to show the first gaming livestream from space! The vessel "ASSFLAP" was unveiled. Viewers were able to get their names written on the side of ASSFLAP for a $20 donation, or receive a limited edition ASSA patch.
Clare was extremely excited at the prospect of space.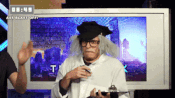 Hugh Mungus (Kevin), space pundit of the stars arrived to make sure ASSFLAP's permits were on the up and up. Clare shot him to death for interfering with her dreams of space, but it took a very long time for him to die.
ASSFLAP was launched, but its game display was not visible on stream. For more info on its mission, see A.S.S.A.
The website GOP Arcade was featured.
Clare completed some ridiculous astronaut training exercises.
TPOTSWIC followed, and the show closed out with Alex trying to beat Clare's training exercise time. He did not, and he was chased out of the studio with the tennis ball cannon.
Ad blocker interference detected!
Wikia is a free-to-use site that makes money from advertising. We have a modified experience for viewers using ad blockers

Wikia is not accessible if you've made further modifications. Remove the custom ad blocker rule(s) and the page will load as expected.