"That's like a weird law of physics: it always goes back to Hitler."
The Attack
episode 192 aired on 7 September 2016. It was hosted by
Alex Corea
and
Hayli Metter
. Alex played a
Pile
video called "Attack of the Fish," though he wondered why NBC Universal hadn't pulled that one down too! Then he discussed the problems with the YouTube video of the
last episode
.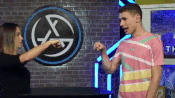 Hayli and Alex discussed awkward handshakes.
Alex had Corrado demo some of the games he's been developing for the Vive, like "Hide and Sneak Upstairs Without Your Dad Seeing You" and "Waiting for Your Dad to be Proud Of You Simulator."
In The Rundown, Kevin joined Alex and Hayli to discuss new announcements from Apple and Sony. The discussion was derailed by a sub train and Kevin chasing Alex with a can of duster.
The show was sponsored by DX Racer. The show closed out with a race through an obstacle course between a DX Racer and a regular office chair. Hayli jumped the flaming "Lumbar Canyon" with the help of some green screen shenanigans.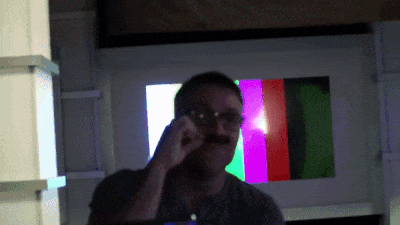 Ad blocker interference detected!
Wikia is a free-to-use site that makes money from advertising. We have a modified experience for viewers using ad blockers

Wikia is not accessible if you've made further modifications. Remove the custom ad blocker rule(s) and the page will load as expected.