"I think he was saying something where you get a nice big thick black thang in your hands you get real, real excited."
The Attack
episode 188 aired on 24 August 2016. It was hosted by
Alex Corea
and
Ify Nwadiwe
.
Ify explained "edging" to Alex.
Ify explained the allure of public masturbation to Alex.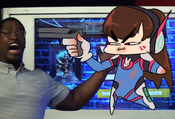 Alex showed some Overwatch fan fiction art from Tumblr, and D. Va fan art held Ify at gunpoint.
Ify brought up the fact that Alex was supposed to get tackled by Los and the booth played a clip from the previous episode. Alex left Ify to fend for himself at the podium while he set up booby traps around the office to injure Los, and when those didn't work he broke Los' knee with a hammer. As Los lay dying on the set, Ify called for a doctor. A doctor (Jeremy) arrived, but couldn't help. But then his true nature emerged, and Jeremy became Dr. Butts! He gave what must have been a stirring monologue, but we couldn't hear it because his mic was off. Then Dr. Butts spent the entirety of his essence to save Los.
The booth played a promo video for the upcoming "Attackle."
In "VRsenal," Alex tried to demo Hot Dogs, Horseshoes, and Hand Grenades, a very realistic VR gun simulator. Unfortunately it didn't work, because VR never works on The Attack.
Nice Assets featured an edit by UpInDaDC.
The show closed out with TPOTSWIC and Joey fixed the VR, so the show transitioned into a Let's Play.
Ad blocker interference detected!
Wikia is a free-to-use site that makes money from advertising. We have a modified experience for viewers using ad blockers

Wikia is not accessible if you've made further modifications. Remove the custom ad blocker rule(s) and the page will load as expected.