Megan: "I would be suffocated within her breasts!"
Alex: "Can you say that slower and into the camera, please?"
The Attack
episode 183 aired on 12 August 2016. It was hosted by
Alex Corea
and
Megan Lee Joy
.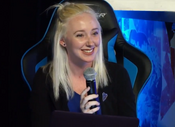 Coral was on set to read Discord comments.
KevCap cut a Pile video together with some gymnastics footage to spice it up a bit.
Alex solicited first kiss advice from Megan.
Alex learned that one of the seven dwarves' names was Dopey, not Gropey, and had a revelation about his uncle.
Since Pokemon Go had changed its tracking system to something that could lure kids to public places, Alex built a "safe spot Pokestop." Megan thought it looked like a glory hole, especially when a Diglet came out of it. She ripped the Diglet out of the hole and blood shot everywhere.
Green Light District featured:
The Godfather Corleone Racers
Rock & Misor (from Steam Concepts)
Steer Madness
Haydee
Nice Assets featured a video edit by Jason_Woot.
The show closed out with TPOTSWIC.
Ad blocker interference detected!
Wikia is a free-to-use site that makes money from advertising. We have a modified experience for viewers using ad blockers

Wikia is not accessible if you've made further modifications. Remove the custom ad blocker rule(s) and the page will load as expected.