"There's all this girth and all that activity. I need a rest!"
The Attack
episode 181 aired on 1 August 2016. It was hosted by
Alex Corea
and
Ify Nwadiwe
.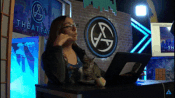 Liz was seated at a desk on the side of the studio so she could read out Discord comments. She had a Dumpster Kitten with her.
Ify made a bunch of "iffy" puns, and then Alex did it and it wasn't nearly as funny.
Alex showed off his invention, the "Ham Deleter" which gets rid of all your unwanted hams. The invention was basically just Mike Rotondo's head sticking out of a hole in a table. Intern Kevin got sucked into the Ham Deleter and came out a skeleton.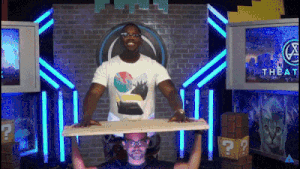 Because Pokemon Go released an update that removed a faulty tracking system, Alex decided to update the show by removing things. He removed all the shirts in his wardrobe and replaced them with white t-shirts that were "scented" with Mike's smell after exercising and eating Cheetos. He also "corrected" Ify's misspelled lower third and replaced the podium with an intern. Then he fired Mike and all the camera guys. Ify physically removed Alex from the set and renamed the show "The Ablack," which had its own intro!
Green Light District featured:
Text Based Jimmy
Fist of Legend
Cube X 3
Slug
Bezarre
Ify "looked deeper" at several of the games to explain them. Jason's mind was blown by the explanations.
Ify was frozen until someone subbed. When he was freed, he danced and then punched Alex.
Nice Assets featured an image by italian_hoagie and a video edit by JesTr82.
Alex announced "Pile Up," a contest where viewers could send in a picture of themselves having an "Attack viewing party" and be entered to win a DXRacer and a copy of No Man's Sky.
The show closed out with TPOTSWIC. It was Corrado's birthday and the staff got him a cake! Alex tricked Corrado into sitting on the cake because he's a jerk.
Ad blocker interference detected!
Wikia is a free-to-use site that makes money from advertising. We have a modified experience for viewers using ad blockers

Wikia is not accessible if you've made further modifications. Remove the custom ad blocker rule(s) and the page will load as expected.