"We drank all the gross things and ate all the gross things and I got all the gross things put on my face, so it was kinda like sex."
The Attack
episode 179 aired on 27 July 2016. It was hosted by
Alex Corea
and
Megan Lee Joy
.
Alex was puttin' in work in his brand new shirt!
Alex and Megan played Stack That Boy! They stacked as many random items on Eddie as possible while he was in his churros coma. They made it to 6 feet! Eddie stayed there the entire show.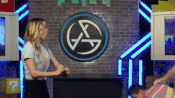 Alex totally did some backflips without any camera tricks or use of a dummy.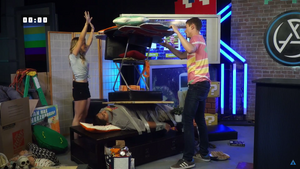 Green Light District featured:
Corrado hulked out on a computer and died of the strain. A doctor (Jeremy) pronounced him dead, saying "He was just... too old." Alex tried to save the bit with another backflip, but failed it and died.
Joey is the one that pitched Prawn Jeremy for the show and came out to defend it.
Mercenary Rodent For Hire
The Furry Game Alarm went off and Alex was cheesed off that a furry game made it into the show again.
Alex tried to wake Eddie up with some Petchup, but was unsuccessful.
Nice Assets featured an image by Von and a video by JesTr82.
The show ended with TPOTSWIC, and Megan very eagerly punched Alex!
Ad blocker interference detected!
Wikia is a free-to-use site that makes money from advertising. We have a modified experience for viewers using ad blockers

Wikia is not accessible if you've made further modifications. Remove the custom ad blocker rule(s) and the page will load as expected.