"Your baby is fucking lazy and is never going to get anywhere in life."

The Attack episode 163 aired on June 24, 2016. It was hosted by Alex Corea and Erika Ishii. This was the first episode after Evanne Friedmann's departure. Erika was the first in what would be a long line of guest hosts.
The Inuit warrior Cargo Pant (Jeremy) stopped by the studio to demonstrate his martial arts prowess, which mostly involved harming Alex.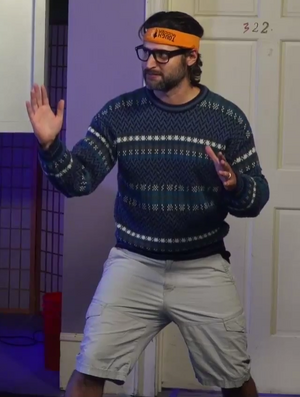 Later he disguised himself as a robot to gain access to the set again, but Alex wasn't fooled. He returned in an Alf mask and Erika convinced Alex to let him have one more chance. He lent Alex his ancient Inuit headband of strength and Alex high-kicked Cargo Pant's hand clean off. He died of blood loss.
Alex told several awful pun jokes. Mayron was shown briefly, which was the first time he appeared on the show.
Alex and Erika competed in Baby Racers, where they raced RC cars with babies strapped to them through a dangerous baby-themed obstacle course. The Attack Baby (Mike) was on hand to feed a bottle of breast milk to the loser and some baby food to the winner. Erika's car didn't work so they teamed up to race the working one. The baby was launched into space.
In The Rundown, Alex and Erika discussed:
Razer announced the OSVR HDK 2
Burger King has started serving "Mac and Cheetos." Craw McGraw (Mike) arrived to be California's first assisted suicide patient, and was killed with Mac and Cheetos.
Sony claims that the PS4 Neo will not shorten the lifespan of the PS4
Steam summer sale has started
Nice Assets featured a #TeamCoral video (prompting Coral to visit the set) and an "Alex Punches People" video by jason_woot.
TPOTSWIC followed.
In Hey, Thanks, they thanked Shimokaji for a USB hub and a motherboard and PJMoose and BelowHeaven13 for subbing during Hey, Thanks.
The show closed out with a field package from E3 where Alex was handing out fliers of his herpes billboard.