"I thought I'd catch a real celebrity but you're not even in X-Men!"
The Attack episode 161 aired on 20 June 2016. It was hosted by Alex Corea and Evanne Friedmann.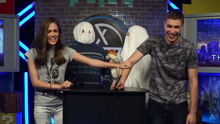 Ghost Dad (Mike) and Ghost Jared from Subway (Yaniv) stopped by the set to make sexual advances at Alex.
Alex set up a Celebri-trap to catch celebrities, but couldn't resist the trap and caught himself. Once he got out he set the trap up again, but unfortunately he only caught Kevin and not a real celebrity.
Alex introduced a video of "Trick Tots," (played by Alex himself) who perform trick shots using babies. When Evanne wasn't impressed, he started doing baby trick shots of his own and accidentally hit Corrado with a baby.
The 2016 Attackees (a mock E3 awards show) were presented. At the end of the awards show, Jon Carnage showed up to smash a TV.
TPOTSWIC ensued, and new subs were thanked in Hey, Thanks.
Ad blocker interference detected!
Wikia is a free-to-use site that makes money from advertising. We have a modified experience for viewers using ad blockers

Wikia is not accessible if you've made further modifications. Remove the custom ad blocker rule(s) and the page will load as expected.