"We don't normally do things that are good on the show."
The Attack
episode 156 aired on 27 May 2016. It was hosted by
Alex Corea
and
Evanne Friedmann
.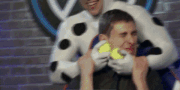 Alex showed off his new puppy Sebastian (
Corrado Caretto
in a dog suit). Sebastian licked peanut butter off of Alex's fingers (and other parts!). Then Alex brought Corrado back out and showed him B roll of Alex rubbing his fingers on all sorts of gross surfaces.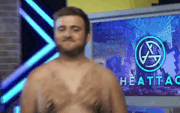 The Attack revealed new hot chest hair-related merch for the summer, including the he-kini. Evanne shaved Mike's back with peanut butter as shaving cream.
Evanne had a bunch of Skittles and large veggies in her mouth until she was told to spit them out. Alex juggled some of them.
Alex introduced the Carny Games, a series of stunts including the Syringe Toss, the Toilet Unclogging Challenge, and Stab the Rat. Alex stabbed Jeremy to complete Stab the Rat, and a police officer (Yaniv) came by to say that was awesome.
In
The Rundown
, Evanne and Alex discussed:
Microsoft is banning the use of common passwords on their accounts
No Man's Sky delayed again, at least until July and August
Nice Assets featured a photoshop by Squirtle Space Program and a video by Jotate12.
The show closed out with
TPOTSWIC
, and the new Whisper Room was showed off! Also, it was
Mayron
's birthday!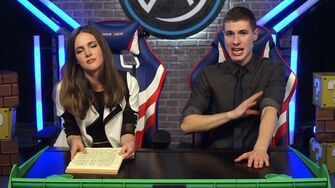 Ad blocker interference detected!
Wikia is a free-to-use site that makes money from advertising. We have a modified experience for viewers using ad blockers

Wikia is not accessible if you've made further modifications. Remove the custom ad blocker rule(s) and the page will load as expected.