"That is offensive to all of my senses. Thank you."
The Attack
episode 153 aired on 18 May 2016. It was hosted by
Alex Corea
and
Evanne Friedmann
. Some of the show's oldest supporters were invited to sit in on the show.
FlyingQueso
had a now-legendary moment of hype.
Evanne talked about all the white privilege YouTube channels she subscribes to. A leafblower user (Yaniv) came on the set and ruined everything. Mike was blown away, but it was revealed that the culprit was not the leafblower guy, but Dr. Butts!
The Bee Bro (Corrado) stopped by and slammed honey like a bro, then forced Alex and Evanne to do the same. Then 'Sup Goose (Yaniv) picked a fight with the Bee Bro and took it outside. The Bee Bro stung 'Sup Goose, but died as a result.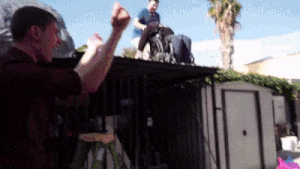 "Swag Master Steven" came by and attempted a sweet stunt live on the show! It didn't go well. Alex accidentally gassed the audience with a fire extinguisher.
In The Rundown, Alex and Evanne discussed:
A commercial for ELEAGUE featuring Shaquille O'Neal, which is ironic since a few months ago Shaq was open about thinking CS:GO is not a sport while on live TV
Microsoft freeing up nearly 1 million unused gamertags
A ridesharing app integrated in Waze
The show ended with TPOTSWIC questions that were passed on by Hairy Henry.
Ad blocker interference detected!
Wikia is a free-to-use site that makes money from advertising. We have a modified experience for viewers using ad blockers

Wikia is not accessible if you've made further modifications. Remove the custom ad blocker rule(s) and the page will load as expected.