"Everything that makes me feel has to die."
The Attack
episode 152 aired in 16 May 2016. It was hosted by
Alex Corea
and
Evanne Friedmann
. It was the first episode from the show's new studio!
The show opened with a prerecorded intro that detailed what everyone had been up to over the past 5 weeks. Alex ran around like a child in the new studio. Evanne was pregnant and drunk and sleeping in a dumpster.
There was also a new show intro with new music.
Alex and Evanne discussed the 5-week hiatus while they were moving studios. Alex talked about his "vacation." Evanne asked why there was a weird door on the set and Alex explained that was where guests will enter. Then he opened the door and Sonja "OMGitsFirefoxx" Reid came through it!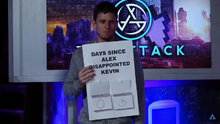 Kevin appeared as a "set piece" holding a sign that read "Days since Alex Disappointed Kevin."
In a "new segment" called Oh Snap, Stella the Snapchat Delivery Woman (Sonja) showed one of Kevin's snapchats and then had to erase herself.
A Pile video showed Glenn Beck putting Cheeto dust on his face to look like Donald Trump, and Evanne rigged up a better application method. Joey shot Cheetos at Alex with a leafblower, but missed and hit Evanne. Alex said he'd rather use chocolate face in cosplaying.
Winners of a giveaway of pieces of the old set were TurtleToots, TheDirtyDer, Seltzer43, DocLinds, PanickedMT and HurricaneSugar.
Alex and Sonja demoed the HTC Vive on stream, the first ever VR co-op to be streamed (they think).
Alex presented a Techamendations review of the August Smart Lock v2. Then he tested it by using it to get away from a vicious attack dog. Joey activated the lock too early and it disqualified him, so the dog got to have its way with him.
Ad blocker interference detected!
Wikia is a free-to-use site that makes money from advertising. We have a modified experience for viewers using ad blockers

Wikia is not accessible if you've made further modifications. Remove the custom ad blocker rule(s) and the page will load as expected.