"Listen, I was fine with Yaniv dying; he's a useless dick. But Corrado?!?"
The Attack
episode 150 aired on 8 April 2016. It was hosted by
Alex Corea
and Stacey Roy. Alex showed off Stacey's awesome Tracer cosplay and her
Overwatch fan video!
Alex showed off the Attackinator 5000, which was designed to learn Stacey's voice and create content for her so she didn't have to stoop to The Attack's level and host the show. Stacey did a tease for The Rundown so that the Attackinator could record her voice. It twisted her words and made her sound like a horrible person! Los angrily left the studio, which made Alex happy.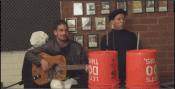 Gerard Deparjew and Gimmel Chevitski stopped by to thank all the Gamewisp Founding Fathers! Then Gerard choked on a meatball and died.
Alex showed another Pile video with the hydraulic press guy from 2 shows ago and Corrado was once again angered into crushing things. In "Can Corrado Crush It," he crushed a dummy of himself and a doll of himself, but when confronted with a picture of himself as a baby, he was moved to tears and crushed his own head!
Alex summoned Dr. Butts to save Corrado. He rose from the dead for the occasion, but he saved Gerard instead (and may have soiled himself in the process).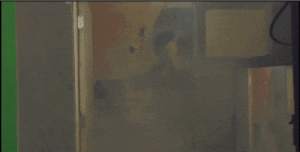 In The Rundown, Alex and Stacey discussed:
Congressman Duncan Hunter was charged with 68 counts of using government money to buy Steam games (over $1300)
PS4 software update added streaming to DailyMotion
Twitter signed a deal with the NFL to stream 10 Thursday Night Football games
TPOTSWIC followed. Alex talked Stacey into a date with him using his Red Lobster gift cards!!!
Edits by Skataneric, LyleThompson, and JaredGBay, and HunterUp were shown, as well as fan art by Scott U.
Kevin came in and kicked Alex off the set. Stacey left too so she could prepare for a cosplay. Kevin and Yaniv said a few words in honor of the 150th episode and announced that the Attack was VERY close to locking down a huge new studio! He also said that the next show would be their last in the current studio.
It was time for the cosplay, and Alex (not Stacey) came out dressed as Tracer!
Ad blocker interference detected!
Wikia is a free-to-use site that makes money from advertising. We have a modified experience for viewers using ad blockers

Wikia is not accessible if you've made further modifications. Remove the custom ad blocker rule(s) and the page will load as expected.