"Are you trying to say that she kept trying to pull your penis off?"
The Attack
episode 149 aired on 6 April 2016. It was hosted by
Alex Corea
and
Evanne Friedmann
.
Evanne loves horses, but does she love horses?
Alex used a vacuum cleaner to find a frisbee in his crotch.
Alex called for a Vidvestigation on a kite surfing Pile video. They also investigated a guy hacking an iPhone and a guy chewing heads into lollipops. This ish was once again bish.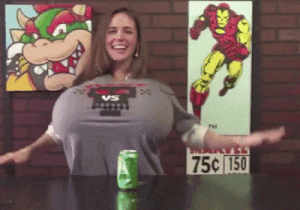 Alex realized that The Attack is in fact the worst show ever and they should just remake that. He shared some of his ideas on how to make the show better. Evanne then shared some of her own. Both included Evanne's boobs being large enough to crush a soda can.
Israeli pop star Gimmel Chevitski (Yaniv's cousin Ben Wengzine) stopped by the studio to play a few songs, but they were all "Wonderwall." The ladies in the studio didn't mind at all.
The show closed out with TPOTSWIC and more Wonderwall.
Ad blocker interference detected!
Wikia is a free-to-use site that makes money from advertising. We have a modified experience for viewers using ad blockers

Wikia is not accessible if you've made further modifications. Remove the custom ad blocker rule(s) and the page will load as expected.